When life leaves you high and dry
I'll be at your door tonight if you need help, if you need help
I'll shut down the city lights
I'll lie, cheat, I'll beg and bribe to make you well, to make you well
"Gone, Gone, Gone", Phillip Phillips
Travel has always been an escape for me, even before Jimmy was diagnosed. There's nothing like going to a unfamiliar place and immersing yourself in the culture, the people and the food. As soon as the kids were old enough, we started giving them adventures instead of stuff for Christmas and their birthdays. We taught them to love unfamiliar dishes, foreign lands and people who weren't like them.
After Jimmy's diagnosis and subsequent recurrences, we upped our game. Instead of putting off Iceland, Norway or Italy, we said 'yes' and figured out how to make the travel work around Jimmy's treatment schedule and health challenges. We grabbed any chance we could to be together and to make memories as a family on the road.
When Jimmy died, being home, especially for holidays, was like walking on broken glass. The house felt dark, quiet and empty. So we fled .. to San Francisco, Pismo Beach, New Orleans .. and then farther afield .. to Africa, Cuba, the Galapagos, Peru. Until recently, getting out of town was the only surefire way to escape the pain of Jimmy's absence.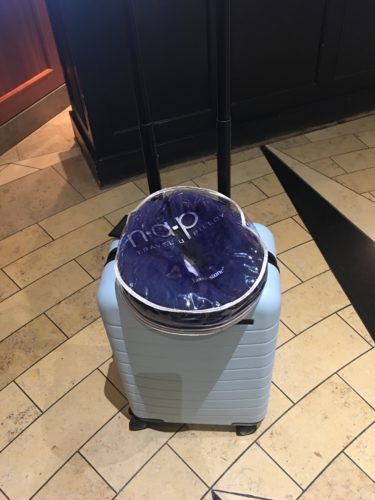 When we went to Greece for our 30th wedding anniversary, this changed. It started when I looked down at Molly's suitcase and saw Jimmy's neck pillow attached to the top of it. My heart hurt as I faced the unavoidable truth that Jimmy wasn't going with us and never would be again.
In that moment, I realized that my last way to escape was gone .. as wonderful and joyful as it is to travel with Dan and Molly, I will no longer be able to live in that space where Jimmy is just "somewhere else". He is gone. Despite how hard I fought to make him well and keep him here, he's not and won't ever be again. All I could think about were the sights he wouldn't see, the places he wouldn't go, the food he wouldn't eat, the people he wouldn't meet, the adventures he'd never have.
Without that crutch, I am learning to grab hold of the beautiful memories the four of us made on all those adventures we had. I relive the delicious meals (and the awful ones, which usually came with Seinfeld-like moments), the experiences, the laughter and the silliness. I remember it all, knowing that it's no substitute for having Jimmy here, but also knowing that I am so very lucky to have had him for the 21 years I did. In many ways, Jimmy's spirit and life force are still here if I stay open to the signs. I will never stop loving him, and until the day my own heart gives out, it will never stop beating for him.
Like a drum my heart never stops beating for you
And long after you're gone gone gone
I love you long after you're gone gone gone