What if we don't have to be healed to be whole? There are holes in every inch of the fabric that makes me who I am. Andrea Gibson
For Tim
I don't remember where I first read Tim Moye's name or how I learned about Wrenched Hearts, the employee support group for bereaved parents Tim started at Delta Air Lines after his son Jason died in February 2011.
Once I did, I scoured the internet for more information. But all I could find were breadcrumbs. A few photos, some brief references to the group and condolence notes from Tim on the obituary notices of other Delta employees' children But no links or detailed information accessible to someone outside of Delta.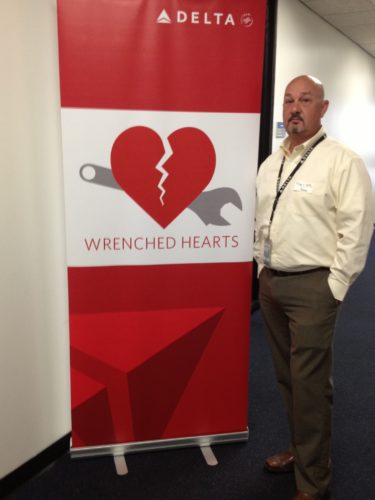 This was long before I saw a bridge connecting my consulting work and Salt Water, but I couldn't seem to get Tim or Wrenched Hearts out of my mind. So, one quiet, fall afternoon in 2017, I looked up the 800 number for Delta headquarters in Atlanta and called. When I asked for Tim, the receptionist said, "Just a minute, please." The phone rang twice, and then a baritone voice with a Southern accent said, "Tim Moye." I explained why I was calling – that I, too, was grieving the death of a son; that I was eager to know more about this group he'd started at work to help other devastated parents – and asked if he would be willing to tell me about Wrenched Hearts.
There was a long pause. Then Tim said, "Sure … but how did you get this number?"
After reassuring Tim that I was neither a spammer nor a stalker, Tim spent close to an hour telling me about Wrenched Hearts and his son, Jason. His youngest child, his golf partner, his buddy. That when Tim got the phone call about Jason having been found dead, he had been planning Jason's wedding and then in an instant, his funeral.
Tim was a mechanic at Delta when Jason died so he called his group Wrenched Hearts because the death of a child is wrenching, and because he and the friend he started the group with were both gear heads. Wrenched Hearts was then and still is, to the best of my knowledge, the only program of its kind in the country.
The following year, Tim and Ron Finch, another member of Wrenched Hearts, allowed me to share the tattoos they got in honor of their sons in Salt Water's "Tattoos of Love" (an annual event where I post photos of the tattoos people have gotten in honor of a loved one, a bit about the person who's died and the story behind the tattoo). Tim also wrote a blog post for Salt Water about Jason and Wrenched Hearts.
We stayed in touch, and as the spark Tim ignited became a flame, I began writing short pieces about how to help grieving employees and leaders navigate work after the death of a loved one and the best ways for their colleagues to support them. Those pieces eventually became a book, Leading Through Loss, with Tim's story framing the first chapter and the hard-won wisdom of Roger Harden, another bereaved dad and member of Wrenched Hearts, woven in throughout.
When Leading Through Loss came out last September, Tim and Roger invited me to speak at the Wrenched Hearts "fly in," an annual fall event where any bereaved parent at Delta can gather in Atlanta.
Last Friday, I gave that talk and had the honor and privilege of spending the day with Tim and Roger and Ron and so many other incredible parents in Wrenched Hearts. I have never felt so welcomed by a group of people or so at home. As Tim likes to say, we "get it." No small talk, no explanations. A safe space where grieving parents are met where they are, whether they are days or months or decades past the death of their child. The both/and of this life after Jimmy has never been so clear – how grateful I am to belong, how heartbroken I am to be eligible for membership.
During my speech, I told the story of cold calling Tim and his initial suspicion. Tim told me later that the reason he had been so taken aback by my phone call is that he had started the position at Delta's  corporate headquarters just two weeks earlier. Had I called before he had, I would never have been able to reach him.
It was exactly six years ago today – October 9, 2017 – that I took a chance and reached out to a man I didn't know, hoping to learn about the support group he'd started and whether it had helped heal his heart, too.
It was a gift to meet Tim in person and spend time with him. To see how unassuming he is, how warm and loving, how funny and kind. To watch him open his heart and his arms to any shattered parent who needs him. To hear the stories of those whose hearts and lives Tim has helped stitch back together. To know that I am lucky enough to be one of them.