It's still possible … to realize that you have always had your life shattered and your heart broken and your faith tested by loving too much and too often and that all along, it was never too much and never too often and that you were never, ever, fully broken. David Whyte
After Jimmy died, the path to the future I had planned for and counted on disappeared, leaving me without a way to move forward into an existence I no longer wanted. I had no idea how fragile my life was until it splintered apart. Parents are not supposed to bear witness to the entire arc of a child's life, and it had never occurred to me how easy it would be to find myself faced with the need to navigate my remaining years without my son. Living scared the crap out of me. It was easier to imagine, even embrace, the relief of dying. But I had a husband whose fierce love had helped me survive Jimmy's disease and death and a daughter I would not leave to grow up without me.
One of the casualties of an out-of-order loss are the relationships you thought you could count on. Death has a way of exposing people for who they are and how much you really mean to them. Much of the attention, especially in the early days, gets focused on those who don't know what to do or say. The awkward silences, the vague offers of help, the reluctance to make time to be with you, the cringe-worthy comparisons ("I know just how you feel. My grandmother died last year …"). In time you learn how challenging it is to say something comforting after a life-altering loss, a task that only gets marginally easier after you have survived one of your own. You discover that those who bring up their own losses in response to hearing about yours may be trying to build a bridge or still suffering deeply from their own. Most people are just doing the best they can, an effort that can be difficult to notice or appreciate through the cloud of your own pain.
The relationships that crack break for deeper reasons. A narcissism you no longer have the space or willingness to hold, a fixation on bright-siding you back to your old self, a relentless need to keep getting what they've always gotten from you at a time when you can barely meet your own needs. Severing ties takes an energy and resolve you may not have which can leave you unable to fend off their unquenchable demands.
Grief is full of paradox. A desperate need for fuzzy blankets, hot tea, mind-numbing Netflix series and solitude coupled with an intense craving for company and connection and not being alone with your own somber thoughts. A perpetual feeling of unwell from eating and sleeping too much or too little accompanied by a lack of energy or desire to move. Days and nights that go by too slowly even as you are confounded by how much time has passed since your beloved died.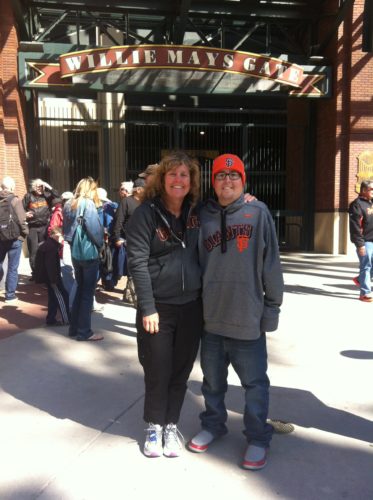 I have lived for almost eight years without my sweet son. If I prove to be as sturdy as my parents, I could live another thirty or forty years, more than double his lifetime. When someone asks how old Jimmy would be now, I cannot do the math without counting on my fingers. For me, he is forever 21 years old. I can't imagine what he would be doing had he lived, and it feels wrong to try. Two of the qualities I loved best about Jimmy were his beyond-his-years ability to know his own mind and his eagerness to learn new things. I never imagined he would become a fierce fundraiser, composed public speaker or religious studies major. But when the opportunities to meet Lance Armstrong, to speak at the Portland LIVESTRONG Challenge or to take Travels Through The Afterlife fall quarter of his freshman year at Stanford presented themselves, Jimmy said 'yes,' his desire to help or to explore his own mortality stronger than his fear. There's no way of knowing what choices he would have made had he lived long enough to graduate and launch a career.
How do you measure the value of a 21-year-old life? If it's based on the impact the young man had on the lives of those who loved and knew him best, Jimmy's was rich and substantial. It was only my pre-conceived notion that he needed another 60 or 70 years to achieve a life well-lived. That his life wouldn't be complete without those additional years. In truth, what he taught the rest of us about being kind, living in the moment, grabbing hold of and cherishing those we love most have stayed with me. I am learning from him still.
At some point, the world will break all of our hearts. It's part of the contract. When I signed up to become a parent, I thought I was agreeing to nurse skinned knees, bruised egos and hurt feelings. To help with homework and struggles at school, friends who turned out not to be, the heartbreak of first love. I never imagined that the commitment would include cancer and chemotherapy, loss of balance and fertility, hospice and death, and that I would be powerless to say 'no' to any of it. But mixed in between my fear and rage about over was happening to my son were moments of sweetness and joy, shared laughter and precious time together that I will never forget. Even now, I would still take this deal in a heartbeat.